Getting Here
We are located at the South-East corner of Kingsway and Willingdon Ave, near-by Central Park and Burnaby Pubic Library.
At our front entrance, there is five Roman Columns. On top of them sits a big neon sign - The Crystal Mall. This is a landmark for the location in Burnaby.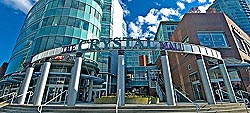 If you are driving, you can turn into McKay Ave from Willingdon Ave from either north or south. Entrance to our parking lot on McKay Ave, right across the library and is marked by The Crystal Mall logo above.
By SkyTrain
It is easy to get to The Crystal Mall by SkyTrain. Simple get off at Metrotown Station, take the covered walkway through Station Square, and cross the street.
By Bus
No matter where you are coming from, you can use Trip Plan on Translink's website to get the bus route and schedule of your choice. All you need to do is enter where you are from and our address "4500 KINGSWAY, BURNABY" as destination.
We have 4 levels of underground parking, totalling close to 1,000 parking spaces. Most of them are free for the first three hours for our visitors. Visitors can also purchase ticket for extended parking time.
Generally visitors will find it easier and more time-saving to go for parking spaces at lower level especially during busy hours of the mall. There are elevator access at any level of the parkades. You will be able to get to any level of the mall and office building from the parkade.
Close to 1,000 parking spaces
4 levels of covered parkings
FREE parking for first 3 hours
Please bring your valuable along with you when you leave your vehicle. Don't forget to turn off headlights and lock your car.
The first most important tip for driving in parkade - slow down and take your time.